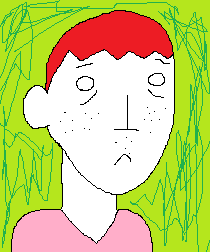 Vincent
(Also known as Grayskyman and formerly Ruberbandman9
)
is a
stream regular
.
Personality
Edit
He is usually light-hearted, but can also be honest. Though he's not usually very serious.
Vincent was watching Mike's streams since early 2012, but didn't talk much at first. He had issues with interacting with the other stream regulars due to Twitch's app lacking the ability to see or use chat. As time progressed he became more involved with the chat. He did open up and create a Skype and eventually joined the forum.
He created many fanworks for Mike in 2013. This includes fanfics based on Pewdiepie which Mike requested then later read on stream. He also wrote a few creepypastas for the streams, but they were not received well by anybody. On top of those, he also drew a bit of fanart for Mike around this time. His old DeviantArt page has all of it archived among other pieces of art.
He stopped being as involved with Mike's community in late 2014 because of personal shit.
In mid 2015 Vincent began to regularly visit the forum and talk in chat after a small hiatus. He started going by the username Grayskyman at this point. Also around this time, he created a comic series based on Mike.